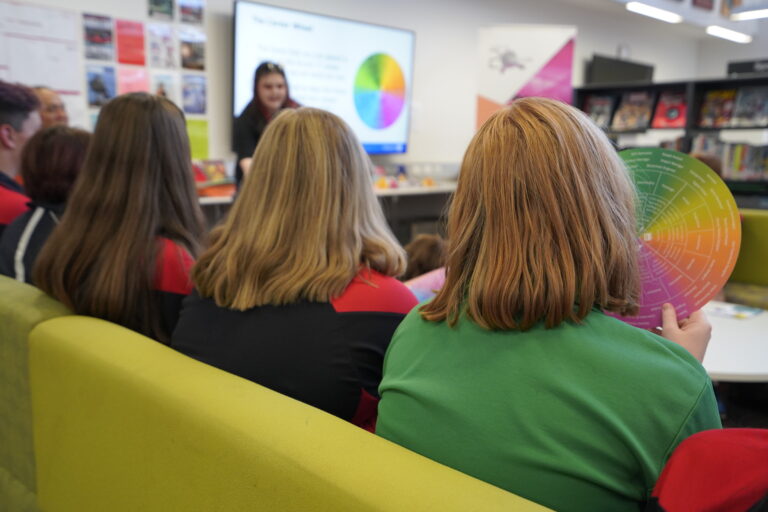 How does a Techtrails school incursion run?
The Techtrails school incursion is a day full of excitement and fun around STEM. Targeted at secondary students, the event brings trailblazing industry experts into schools. While meeting some of Western Australia's most inspirational professionals and entrepreneurs, students develop a deeper understanding of how STEM skills taught in class today can be applied in real-world contexts.
After an opening presentation to all students and teachers, students start rotating through their small-group sessions. In each session, the students meet a STEM industry professional to hear their personal stories of how they pursued their passions and came to use their STEM skills to create exciting and meaningful career pathways. Students have the opportunity to interact with five to eight different STEM professionals, listen to them talk about their careers and ask questions.
Rotating through a variety of speakers, and taking part in a Virtual Reality activity, each session challenges them to explore new concepts and ideas in science, technology, engineering and mathematics.
Discover where and when you can find the Techtrails team around Western Australia.
Techtrails visit Geraldton Senior High School in 2023
Schools have once again welcomed our Techtrails STEM and…
Techtrails visits Karratha Senior High School
Our Techtrails STEM & Future Skills Program is back…
WiTWAs Techtrails STEM and Future Skills secondary schools program is going…
Techtrails visits Esperance Senior High School
Our Techtrails STEM & Future Skills Program is making…
Techtrails visits Fremantle College in June 2018
Our latest Techtrails STEM & Future Skills was held…
Blazing a path to exciting STEM careers
Future of work. How WiTWA is inspiring and supporting…
It's a wrap: techtrails visits Geraldton to close off a big year
On 30 November the WiTWA team delivered our final…
First techtrials for Teachers event at John Curtin College in Fremantle
On October 31, 2017, the first techtrails for Teachers…
WiTWA techtrails visits Ocean Reef SHS & Belridge Secondary College
In October, the WiTWA team brought our techtrails STEM…
WITWA techtrails STEM incursion @Warnbro Community College
Thank you Kya Graves, Principal and the wonderful teaching…
Regional Techtrails 2017 @Bunbury Senior High School
Thanks to an amazing lineup of inspiring STEM professionals,…
Blazing a trail @ Albany Senior High School
The final techtrails STEM incursion for 2016 was held…
techtrails @ 2016 Perth Science Festival
On the glorious winter weekend of 13-14 August WiTWA…
Tools & Resources for Schools